Buying a Gas Station or Convenience Store?
Don't Forget the "P Factor"
Don't buy a gas station or buy a convenience store without reading this advice.
By Richard Parker: President of The Resource Center for Buying a Gas Station/C- Store™ and author of How To Buy A Good Gas Station/C-Store At A Great Price© .
Are you about to buy a gas station or convenience store?
If so, you may have been looking at gas stations for sale, meeting with sellers, exploring sources of funding to purchase your business – and screwing together all the other nuts and bolts of the deal.
That's great, but don't forget what I call the P Factor. P is shorthand for "Personal." Unless your station/store meshes with your personal life, it will not be a good buy for you – even if it is a terrific business in every other respect.
Here are some questions to ask to be sure the P Factor will be working for you: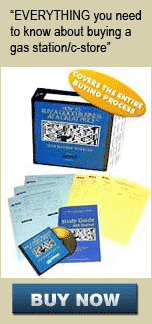 Am I about to make changes in my life that would prevent me from giving my all to the business? If your spouse wants to relocate to another state after your kids leave for college, for example, this might not be the right time to put down roots by buying a business where you are.
What are the other demands of my life right now – like owning other businesses or dealing with ill parents - and what are they likely to be in the next few years?
Am I willing to put in long hours, seven days a week, to operate a gas station/convenience store? (The average hourly workload for a new owner is 50 hours a week – perhaps not as bad as you were expecting.)
Am I in good enough physical condition to lift and carry items that weigh as much as 35 pounds – such as shrink packs of canned beverages? Bear in mind, owning a gas station/convenience store can be physically demanding.
Am I in good health, and ready for long hours and possible stress?
Am I ready to learn as much as I possibly can about operating a gas station/convenience store before I buy one? Are there specific business skills I need to add or improve before buying this business?
Do I have a high level of tolerance for business setbacks and frustrations? Or are frustrations going to keep me awake at night?
Do I have a positive attitude?
Do I genuinely like working with the public?
In summary . . .

Remember, external factors like these can ultimately determine whether your new enterprise thrives or fizzles. And the time to ask the right questions is before you buy, not after. To learn more, be sure to read our complete guide, How to Buy a Good Gas Station at a Great Price.
---
This article represents a fraction of what you'll learn in How To Buy A Good Gas Station/C-Store At A Great Price© - the most widely used reference resource and strategy guide for anyone thinking about buying a gas station. Read a detailed listing of what you'll learn.