Pick the Best Location when You Buy a Gas Station/C-Store
By Richard Parker: President of The Resource Center for Buying a Gas Station/C- Store™ and author of How To Buy A Good Gas Station/C-Store At A Great Price© .
Are the most profitable gas station/convenience stores right next to highways? Are they adjacent to busy malls? Or are they somewhere else entirely?
You need to know before you put down your hard-earned dollars to buy any gas station/convenience store. I explore this issue in depth in my new guide, How to Buy a Good Gas Station/Convenience Store at a Great Price.
But I'm happy to provide answers to the question for you here.
What's the Best Location?
Bear in mind, you probably already have answered at least part of this question. Unless you are thinking of relocating your home, the best station for you is probably located within a short commuting distance from where you and your family live.
Because the fact is, gas stations and convenience stores are not great businesses for "absentee owners" despite what many outsiders may believe. If you want to operate a very successful gas station, you need to be on the premises, watching what is happening and keeping the premises in top operating condition. Without the presence of a strong manager, profits fall. Are there exceptions to that rule? Of course, there are exceptions to every rule. But if you are buying a gas station/convenience store – especially if it will be your first – your odds of success will increase dramatically by being a hands-on operator.
With that said, let's examine some of the most important questions about location:
Should you look for a location near a highway? A highly visible location with easy in-and-out access to a major interstate highway is the "holy grail" of locations that every owner dreams of. Be aware however, that the major oil companies have already been in business for so long that most such locations are generally already owned or leased by them. So the chances are getting slimmer for finding and buying an independent station in such a sought-after location.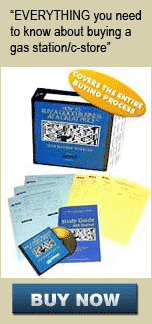 What about locations near malls and shopping centers? They're also highly desirable, because they generally do a large volume of business. However, certain issues can arise with these locations too. Often, the land adjacent to a mall is leased from the company that owns the mall. As that company expands the mall's footprint, it is possible that it will want to replace your station with another kind of tenant, such as a chain restaurant. Be aware, too, that the sudden arrival of a Wal-Mart or other large chain store that sells gasoline can eat into your profits quickly. So too can the arrival of competing gas stations which will also be drawn to prime mall-side locations.
Should you look at inner-city and other "diamond in the rough" locations? In smaller secondary cities and some suburban locales, the balance shifts and gas station/convenience stores often function more as convenience stores than as gasoline retailers. People who are not buying gasoline will come in to buy a quart of milk on the way home from work. That will almost never happen if you are doing business in the highway-side or mall-side locations described just above. For this reason, a smaller gas station/convenience store in one of these locations can be an excellent choice for you, especially if you are starting out on a tight budget.
Another important issue? Is the area where you are buying your station growing? Are there new businesses, hospitals – and people – moving into the area, or is the area in decline?
Buying a gas station or buying a convenience store is only a good idea if you can buy in a good area. If you're not certain of that, look elsewhere!

You'll find these questions, and many more, answered in depth in our new guide, How to Buy a Good Gas Station/Convenience Store at a Great Price.
---
This article represents a fraction of what you'll learn in How To Buy A Good Gas Station/C-Store At A Great Price© - the most widely used reference resource and strategy guide for anyone thinking about buying a gas station. Read a detailed listing of what you'll learn.